Graduating from high school and college is an exhilarating experience. The excitement of beginning a new life that doesn't involve the constant all-nighters, tumultuous dining hall, and annoying group project members is definitely thrilling enough for a recent graduate. Though this sounds amazing, what excites recent graduates the most is the opportunity to finally follow their dreams and start a new career in their field of study. However, without an optimized, simple job resume, the chance of successfully landing a job right after graduating is much slimmer than you think.
Little do recent graduates know, the expectations of employers have increased tremendously in recent years. For college graduates, a false narrative has been created that a degree will ensure quick job placement in their career field of choice. Most college students end up with positions that have nothing to do with their respective majors. High school graduates are more likely to get quick job placements. However, most are employed in positions where the working conditions are not desirable.
When crafting your entry-level job resume for positions after high school and college, there are a few key tips and tricks that can prove to be advantageous in ensuring that your simple job resume format stands out from job competitors. When you're so early in your career, you're competing with a large pool of similar, unexperienced candidates. Because of this, it is extremely vital to attempt to leverage as many skills and accomplishments as possible. These skills and accomplishments will serve as the backbone for an exceptional simple resume.
For the majority of graduating high school and college students, a simple job resume is essentially the passport to job success. Studies show that the first job out of school typically dictates the trajectory of your career and potential earnings. Therefore, before you begin sending out your document left and right, it is best that you consider these three simple job resume tricks for graduating high school and college students.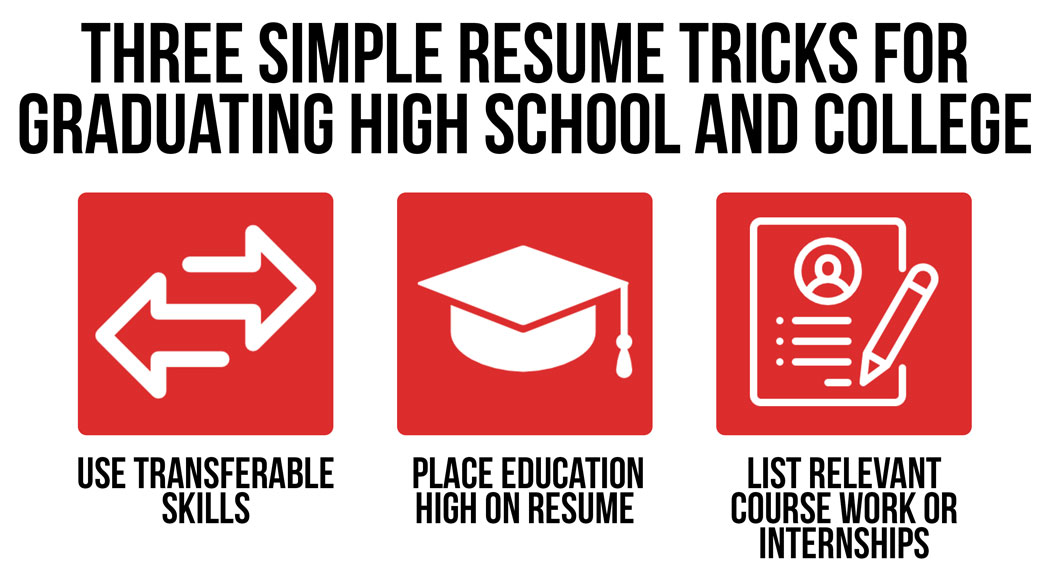 1. Use Transferable Skills 
When you're just entering your career, highlighting your technical skills and experience you have obtained throughout the years can be tricky. This is where you have to look at your past positions and attempt to pull as many transferable skills out as you can. Did you lead a team and showcase leadership abilities? Did you take a look at an internal process and drive process improvements to greatly impact a company?
Transferable skills are the skills that have to be acquired through the workplace and life's experiences. They are absolutely essential to any role and have been proven to be extremely useful. No matter how insignificant you feel your experience may be, you can always pull out a transferable skill or a learning lesson that you can use to your advantage.
2. Place Education High On Your Simple Job Resume
More often than not, entry-level candidates will almost always rely on their education as their most marketable attribute. This is always a good idea, especially when your degree choice and selected courses are relevant to the role you are pursuing.
When you are formatting your simple job resume, place your education section near the top – ideally, right underneath a professional summary. This is where you want to direct the hiring manager's eyes. By placing the education section high up, you are calling importance to the content.
3. List Relevant Course Work Or Internships
In leveraging your experience as a high school or college student, most individuals will only have their course work and internships to lean on. This is why it is important to pursue these opportunities and be strategic about which courses you take. Make sure they add value to your candidacy.
Then, add them to your education section of your resume. List them clearly and use their course names so that your resume picks up points within applicant tracking systems.
Getting into the career of your dreams fresh out of school can be a challenging task. However, with the correct preparation and utilization of these tactics, you can increase your job prospects tremendously. If you're lacking confidence and your ability and want to seek simple and professional resume writing services, our team consists of Certified Professional Resume Writers whom are trained to create a cost-effective resume to serve your needs. As a recent graduate, you probably haven't built up enough sustainable income.
Gain the competitive advantage and get a cheap resume today with our payment plan option!