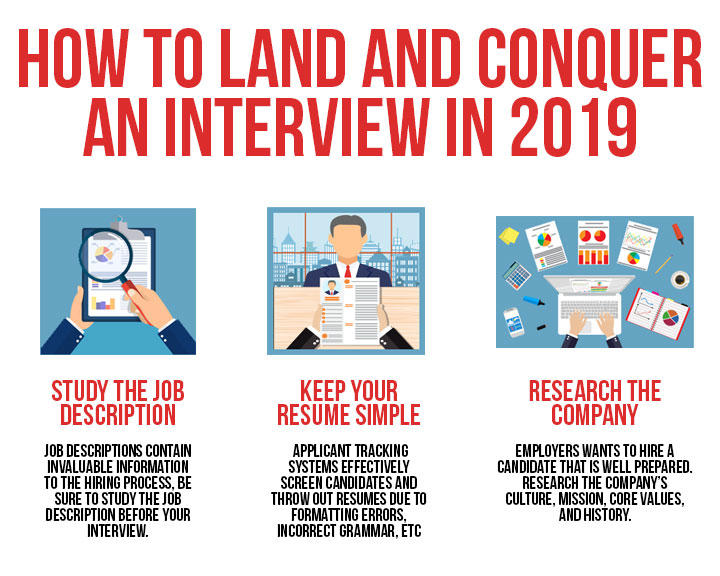 Employees from many years ago would have never imagined how competitive the workforce would grow to become. Now, skills simply aren't enough to be considered as qualified for a position.
In a world where technological advancements are constant and change is rapid, there is an ongoing war for talent amongst top companies, and candidates are now expected to bring more well-roundedness to the forefront. Thus, candidates need to be prepared to submit the best resume possible.
To assist jobseekers in their search for new roles, here are our Simple Resume tips on how to land and conquer an interview in 2019.
Study The Job Description
The job description makes up the very first part of our simple basic resume tips. If you're looking to land an interview for a specific role, you absolutely must take the time to study the job description.
Job descriptions contain invaluable information to the hiring process. They typically describe the functions of a job, daily responsibilities and expectations, specific qualifications and skills that a candidate must meet to be considered, and sometimes even a salary range. Usually developed from a thorough job analysis, job descriptions are also strategic in vetting potential candidates throughout the hiring process to ensure a good hire.
Before you begin anything, make sure that you first qualify for the position. If you qualify, take good note of specific keywords and key phrases that you see. Jot the ones down that you see most frequently and plan to include them in your writing.
Keep Your Simple Resume Simple
Companies have implemented applicant tracking systems into their hiring processes. These systems effectively screen candidates and throw out resumes that use an ineffective, basic resume template and contain formatting errors, incorrect grammar, etc.
Although some modern resume writing actions such as having a creative font, professional headshot, and colors may seem appealing to you, with these systems in place, these actions will surely send your work resume to the "do not hire" pool.
Keep your simple resume simple and focus more on your career accomplishments rather than creativity. This method will help you create the best resume to beat an applicant tracking system geared towards weeding out unqualified job resumes.
Research
Research is arguably the most important step of them all in your effort to conquer an interview. No employer will ever hire a candidate that doesn't know a thing about the company. Research the company's culture, mission, core values, and history. Take extremely detailed notes and work this information into your memory. Examine the company's online presence to get a visual understanding of the company's events, philanthropy, and presence. Hiring managers will only expect you to know the basics. Having this enhanced knowledge of the company will surely impress recruiters and hiring managers.
If you receive an offer for an interview, take it upon yourself to look the interviewer's name up on LinkedIn or Google. Find out his/her background, tenure, interests, and volunteer experience. The importance of showing an employer that you have the ability to research is astronomical. Along with being one of the best resume skills, research skills show that you can provide in-depth information, find valuable references for your work to reference, target and identify problems, and collect informational resources to resolve problems. By having this knowledge of your interviewer, not only will impress him, you will also show that you have research skills and the ability to take initiative which is key in today's work environment.