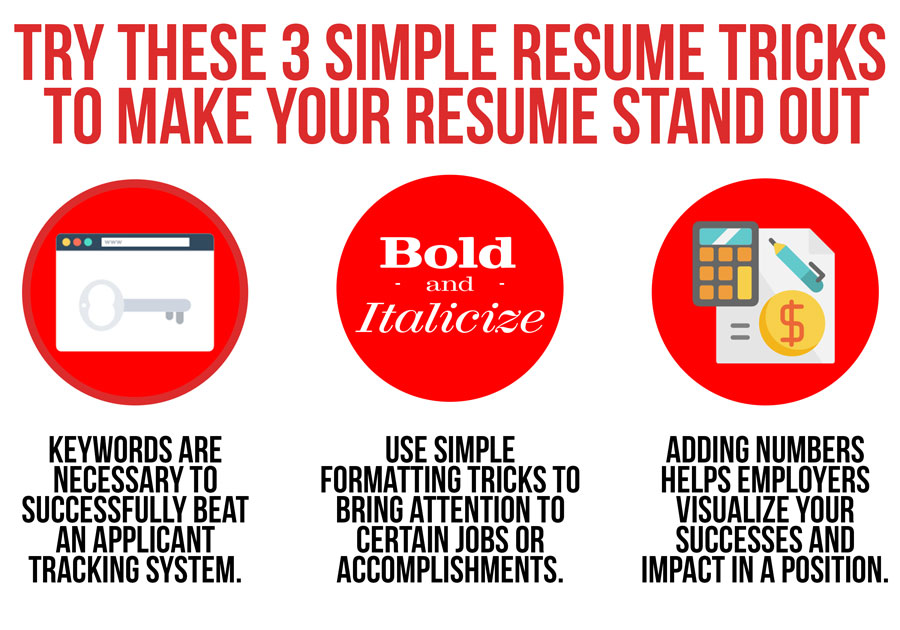 The biggest first step for any job seeker looking to enter the job market is to take the time to build, critique, and review their resume to create a simple and professional resume design. Besides the interview, the traditional resume is the single most important aspect of the hiring process. Considering that a basic resume design is what essentially lands candidates interviews, the lack of a great, simple resume format diminishes your chances of moving forward in the hiring process.
With an increasing number of job applicants in the market, for any desirable position a job seeker may seek, he/she will face a high level of competition. As the level of competition continuously increases, job seekers are constantly looking for ways to vastly improve their resumes in efforts to stand out from their competitors. Here are 3 simple and professional resume strategies to help create an elegant resume that will stand out and land you that dream position.
1. Plug In Keywords
One of the most simple and professional resume tricks is plugging in keywords. Keywords are necessary to successfully beat an applicant tracking system (ATS). Job descriptions typically include specific keywords to describe the nature of the job and type of individual the employer is looking to hire. It is important to take notice of these keywords and work to include them in your simple resume's content. A lack of keywords within your simple resume can be detrimental to your chances of landing an interview.
Keep in mind that even though it is consequential to implement key terms and key phrases throughout your resume, it is also equally important to be mindful of how many times you plug in keywords in your writing. Attempting to include too many key terms is a tactic known as keyword stuffing. Keyword stuffing your resume can agitate an applicant tracking system and cause your writing to look spammy. Hiring managers will surely catch on to this method. Try to avoid over-saturating your simple resume with keywords and aim to make your writing flow, as it will surely be noticed (check out our services for a keyword-optimized resume).
2. Bold & Italicize
Another simple and professional resume trick is to enhance the font of your writing. In resume writing, you will immediately need to attract the attention of hiring managers with your content. You will want hiring managers to look at your accomplishments to give them a better idea of the work you have done in your previous places of employment. The simple trick to doing this is to italicize them.
Italicizing differentiates your accomplishments from other pieces of text and helps employers key in on some of your most important qualities when they initially look over your simple resume design. You have the leeway to choose to italicize specifics such as your job title, areas of expertise, and other pertinent information to the role that you desire.
You also have the options between choosing to bold or italicize your content. We recommend using italics to highlight your specific roles, areas of expertise, and accomplishments and using a bold font to highlight your roles or the companies you worked for.
3. Quantify Your Accomplishments
Adding numbers to the content of your writing has a dynamic effect on the overall structure and impact of your job responsibilities and accomplishments. Quantifying statements throughout your writing will help employers visualize the overall impact you've had on the position and the organization.
It is pretty common to find that not all positions involve hard performance metrics. Because of this, many job seekers may find it difficult to quantify their job responsibilities and highlight their accomplishments. However, it is still very feasible to add numbers to any position listed on a resume.
Compare "provided customer service to clients" to "engaged with 15-20 clients per day to find quick resolutions in order to effectively solve complex situations". Same task, same number of clients, different sentence structure. Keep in mind that an employer would be more inclined to interview the job candidate who demonstrated in his writing that he was able to handle 15-20 clients a day than a candidate who failed to include quantifiable measurements.
The best resume writing examples find ways to impress employers to receive chances at getting an interview. Too often, a resume design lacks substance and detail to make it stand out as a high quality resume and hinders your chances at speaking about your experiences in person. Utilizing these three simple and professional resume tricks will help BOOST your chances of getting an interview.