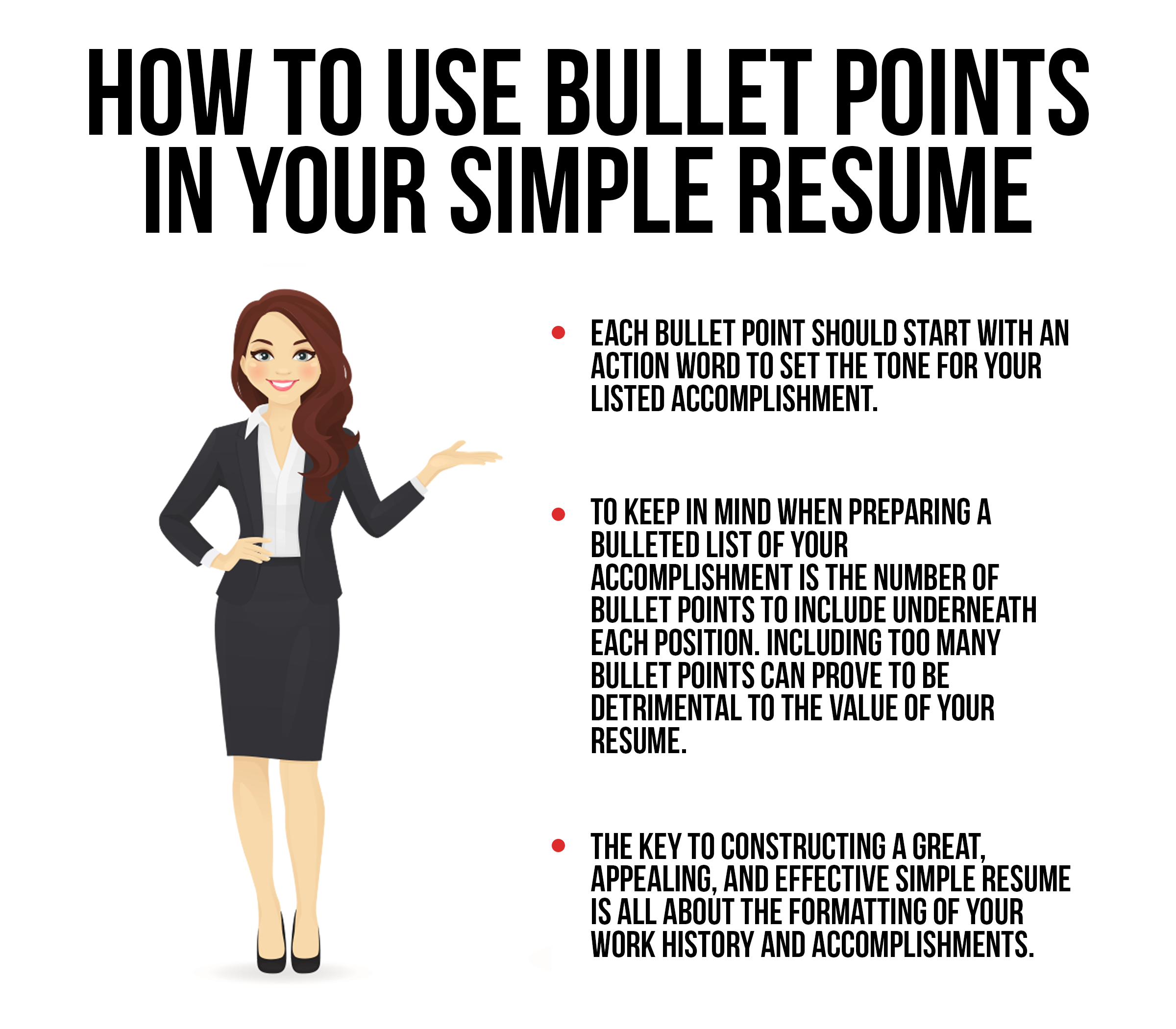 Why Bullet Points?
When writing a contemporary resume, your approach must be strategic to create a good simple resume format that will impress hiring managers. To climb your way up the organizational ladder, it is of critical importance to organize the content of your professional resume in the form of bullet points.
On average, recruiters only spend about 6 seconds looking at a job candidate's resume. Bullet points can help maximize the impact of your simple resume by allowing hiring managers to immediately key in on your accomplishments.
Format, Format, Format
Bullet points are quintessential elements that are needed to simplify and shorten a resume. In retrospect, bullets have been proven to be successful in making a job candidate's accomplishments stand out within those 4-6 seconds of the initial screening of your simple resume format.
Choosing to create a bulleted list of your accomplishments within your resume instead of writing in paragraph form helps create aesthetic appeal and break up your text. This can have a positive effect on the readability of your resume.
A simple resume format with bullet points will help award you with an interview. Bullet points have significant importance in the writing process. Your simplified resume should not reflect the attributes of an essay in any fashion. With bullet points, you have the opportunity to organize, highlight, and separate your skills, accomplishments, and job duties.
Start With Action Words
Each bullet point should start with an action word to set the tone for your listed accomplishment. Let's use a management role for an example. When applying for a management role, be sure to include action verbs such as "managed", "lead", and "directed". Be sure to research top action verbs for your field and include them in your simple work resume.
Don't Use Too Many Bullet Points
Another thing to keep in mind when preparing a bulleted list of your accomplishments is the number of bullet points to include underneath each position. Including too many bullets can prove to be detrimental to the value of your simple resume. We recommend implementing no more than 3 to 4 bullets for each position listed on your work resume.
The key to constructing a great simple resume format is all about the formatting of your work history and accomplishments. Keep in mind that even after successfully passing through the initial screening of an applicant tracking system to land your work resume in the hands of a human being, your simple resume still needs to be attractive and readable! No one enjoys reading through huge blocks of text, so utilizing bullet points to summarize your job history and accomplishments will be appreciated by hiring managers.