In the hiring world, writing a simple resume has become a widely accepted practice by recruiters and hiring managers alike. Before a resume can be seen by potential employers, they are required to go through a screening process for proper vetting.
Once resumes pass the initial screening that is implemented by the Applicant Tracking System (ATS) software, they are then left in the hands of hiring managers who will sort through the pile of resumes to uncover the top candidates for the position.
The process of bringing in a beneficial new hire to an organization can come with many challenges for hiring managers. Thus, working to create a simplified resume can prove to be beneficial for prospective candidates in the talent pool. We have compiled the top 3 reasons why hiring managers prefer a basic resume design that makes for a great resume.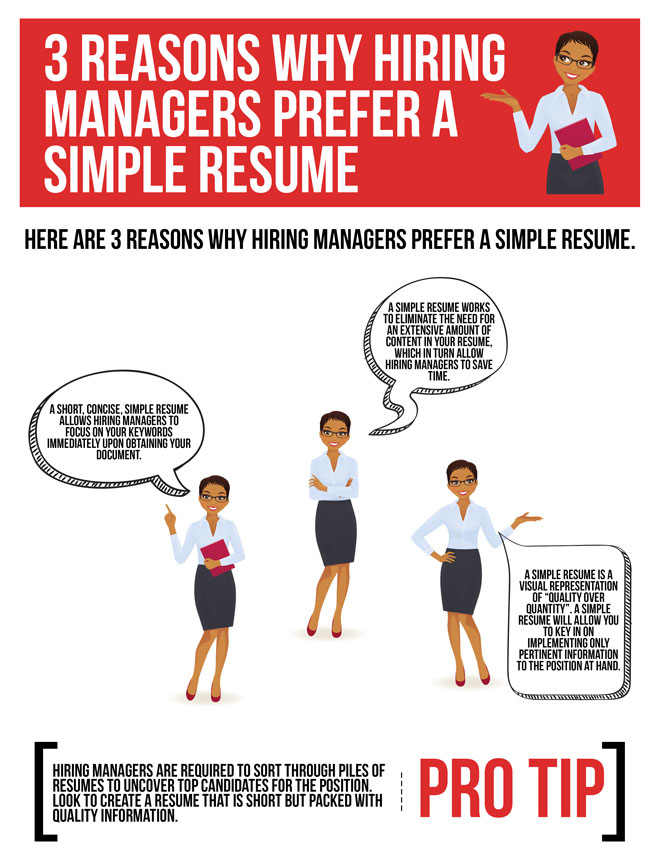 Short & Sweet
Recruiters and hiring managers would prefer not to have to read through extensive, lengthy resumes. A complex resume can come off to a hiring manager as unappealing, boring, and difficult to read. If the first initial reaction to your resume from hiring managers is a negative one, chances are that you will be eliminated as a potential hire.
A short and concise basic resume design allows hiring managers to key in and focus on your keywords immediately upon obtaining your document. In fact, it makes it even easier for a hiring manager to locate your keywords and professional accomplishments, as they will not have to read and sort through a load of content.
Aiming to create a short resume that's to the point will ultimately lead you to creating a work resume well-optimized to appeal to the eyes of the hiring managers who will be reading your document.
Quality Information
Too often, a work resume lacks enough substance and detail to make it stand out as a high quality resume. The proper resume for job searching will serve as a visual representation of "quality over quantity", as the resume should communicate information about your career background that is valuable, meaningful, and beneficial to the hiring manager's decision-making process.
The simplicity of a basic resume design will allow you to key in on implementing only pertinent information to the position at hand. In order to make a push for a high quality resume, you must scrutinize your own work and make an effort to determine the information that will serve to be most useful to your potential employer.
Time Saving
It has been said that the average recruiter takes approximately 6 seconds to look through a candidate's information to determine if they are suitable for the open position.
Many hiring managers will typically spend a little more time in attempting to uncover the potential of a job candidate to aid hiring efforts. However, according a 2017 study conducted by Glassdoor, the average hiring process in the U.S. takes approximately 23.8 days. An effective hiring manager will aim to cut as much time as possible from the hiring process to ensure a quick hire.
A resume simple enough for readability works to eliminate the need for an extensive amount of content when writing a simple resume, which in turn allows hiring managers to save time.
Practicing writing a simple resume can create opportunities for job seekers, whereas complex, drawn-out resumes greatly diminish your chances of gaining employment. The goal of writing a simple resume is to keep the content short, simple, and to state your value. Some of the best basic resume examples portray a resume document that is short and packed with quality information so that it will save employers a lot of time. Click here for a downloadable simple resume template optimized for ATS and hiring managers.