Creating an effective, basic resume format to gain the attention of recruiters and hiring managers requires skill. The professional resume is one of the most important documents you will have throughout your career. It has the potential to either help you or hurt you when you're applying to positions and can even net you big pay increases when transitioning jobs!
An effective and basic resume design has the ability to stand out in a sea of similar applicants and candidates with backgrounds that may or may not be better than yours. Early in your career, a simple resume is usually the more efficient route to go. However, that may not work as well if you are pursuing a management or executive level role (for executive-level writing, click here).
Our team conducted research on some of the best practices when seeking to land an entry level position. Here are four basic resume writing tips to make you stand out from the crowd.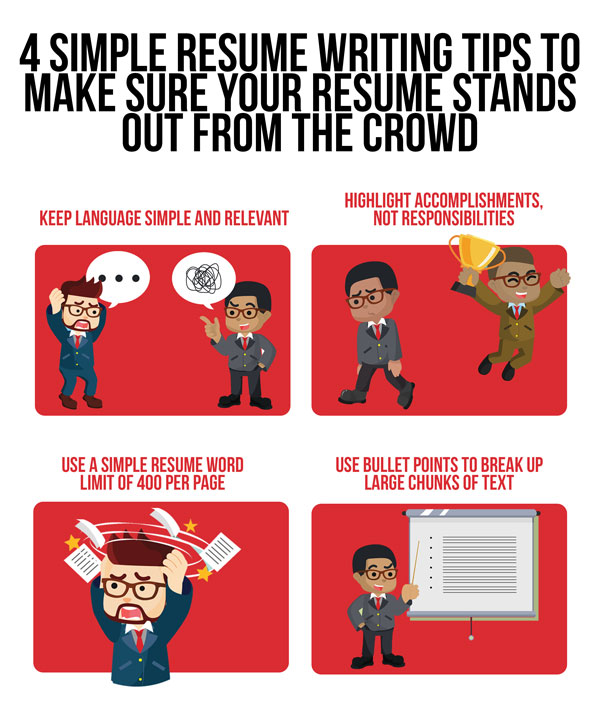 Keep The Language In Your Basic Resume Simple And Relevant
While it may be wise to include as many keywords as possible to make sure your document is optimized and shows up in databases for as many search terms as possible, you will want to ensure your keywords are relevant to the position and industry. There is no point adding hundreds of keywords that are outside of the scope your responsibilities or irrelevant to your job function, as a hiring manager could ask you about them in an interview.
Another thing to keep in mind with your writing language is to not overstuff your writing with keywords. Resumes have to go through applicant tracking systems (ATS) before they are pushed out to hiring managers. Applicant tracking systems scan resumes for relevant keywords pertaining to the job description. However, if you're "keyword stuffing" to purposely disorient the ATS, the system will pick up on this and immediately filter out your resume (check out these simple resume techniques for more on how beat an applicant tracking system).
Keeping the language of your resume simple and relevant is strategy that helps with hiring manager approval. No one wants to read a document that is over-written and overly complicated. Remember, successful resumes are resumes that serve as marketing tools to assist you in successfully landing interviews and should not be submitted as dissertations!
Highlight Your Career Accomplishments, Not Job Responsibilities
A simple mistake that we often see in the basic resume design is the utilization of job responsibilities to fill out the content of your simple resume. Hiring managers are more concerned with what you can help their organization achieve and are looking for prospective candidates who can add a track record of success.
It's always best to use sentences that outline your achievements and include as much quantifiable information as you can too. On a basic resume constructed of the written word, the inclusion of numbers immediately draws the attention of hiring managers. Candidates who provide quantifiable measurements to their career accomplishments are highly more likely to be called for an interview, which is why it is a good idea to include them.
Use A Word Limit Of 400 Per Page
While it may seem like a good idea to fill your document with as many words as possible and maximizing the use of keywords, you will want to stick to a word limit of roughly 400 words per page.
Limiting your content to 400 words has been found to be an ideal balance of keyword density and aesthetic appeal. It enhances the appeal of your writing by providing allowing sufficient space for you to detail your experience and accomplishments without blowing out the word count. This presents the hiring manager with a simple resume that is overly dense and unattractive.
Use Bullet Points To Break Up Large Chunks Of Text In Your Simple Resume
During the formatting stage, a simple writing tip is to use bullet points instead of paragraphs to break up the text. In order for your content to strike a hiring manager's interest, he/she must be able to read it. If the document consists of paragraph text, directly pinpointing your accomplishments will be extremely difficult and unpleasant on the eyes.
The usage of bullet points is effective in highlighting one accomplishment at a time instead of explaining your career in paragraph form. Additionally, bullet points help with focusing the hiring manager's attention on areas of your document that you want to draw attention to.
Additionally, bullet points help with focusing the hiring manager's attention on areas of your writing that you want to draw attention to. Utilize bullet points to further enhance your modern resume writing skills.