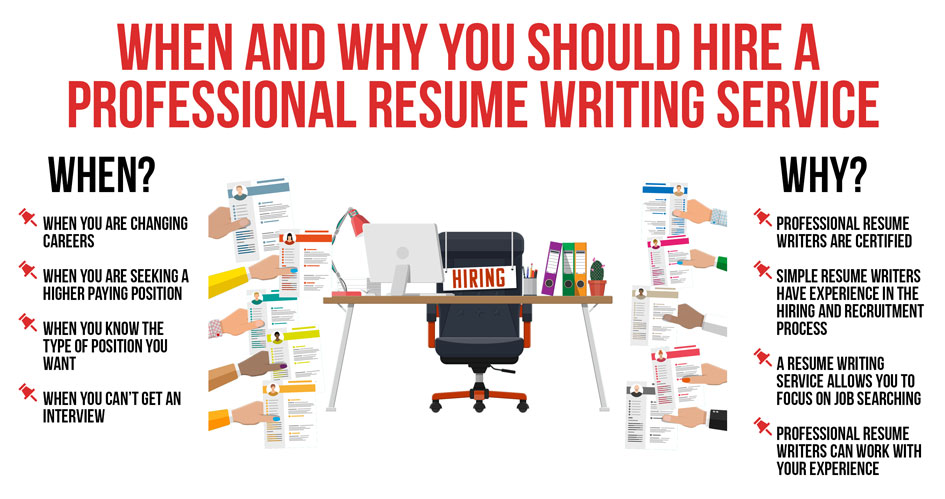 Competition among job seekers in today's market has become exceedingly competitive. The demand for quality, top-of-the-line candidates has risen to an all-time high. With the US economy growing at an average rate of 4.1%, the presence of social platforms such as LinkedIn, and the implementation of applicant tracking systems (ATS), there are now more job seekers than ever before. With that being said, there exists a record-breaking number of applicants which in turn decreases your chances of getting hired. The key to success is to hire the best professional resume writing services in the market.
The best professional resume writing services work to counteract these issues by providing jobseekers with the skills and simple resumes that are being sought out by employers. A resume serves as a jobseeker's marketing document. Resumes need to be crafted in a way to market your skills and accomplishments to employers in contrast to just showing your work history. Due to this, there are specific instances in which hiring a simple resume writing service can be ideal. We have compiled a list of when and why you should hire professional resume writing services.
WHEN?
When You Are Changing Careers
A career change can be discouraging for an experienced worker, especially if he/she has no experience in the field. The best professional resume writing services understand that life happens and can sometimes warrant a wanting for a change of scenery. We will help you land a position within your newfound passion by strategically boosting the appeal of your professional summary and highlighting your skills and accomplishments to intrigue employers.
When You Are Seeking A Higher Paying Position
Professional resume writing services have a proven track record of successfully landing employees higher paying positions. If you are an experienced worker and seeking assistance to live a better life, Simple Resume will format your resume to show hiring managers that you are a top contender.
When You Know The Type Of Position You Want
Simple Resume writers have specific, expert-level knowledge in all industry sectors. If you know the type of position you're seeking, we'll customize your resume to help you land your dream position.
When You Can't Get An Interview
Getting a call for an interview is more challenging than it has ever been. Simple Resume's true and tried resume service has landed job seekers interviews all over the country. Our 90-day full-money-back guarantee speaks to our ability to help you get an interview. Call a simple resume writing service when you find yourself filling out multiple applications with no calls back.
WHY?
The Best Professional Resume Writers Are Certified
Resume writers help make the process of finding employment simple. Our writers are certified and trained to handle a multitude of challenges that the common jobseeker may face. Some of these issues include gaps in employment, lack of experience, formatting, and drafting issues.
Certified professional resume writers have demonstrated the knowledge and writing expertise needed in meeting and exceeding industry standards.Writers that are certified by entities such as the PARWCC (Professional Association of Resume Writers & Career Coaches) will ensure you that you have one of the best professional writing services.
If you have any doubts about writing a simple resume, it is best to contact a simple resume writing service with certified writers to assist.
Simple Resume Writers Have Extensive Experience In The Hiring And Recruiting Process
Certified professional resume writers have expertise in getting resumes to pass the screening implemented by applicant tracking systems. The job market has evolved to become digital. Due to this, employers now use these systems to effectively and efficiently screen out unqualified candidates. Writers have deep knowledge of the hiring and recruitment process and can tremendously increase your chances of passing the screening.
Professional Resume Writing Services Allow You To Focus On Job Searching
Hiring the best resume writing services takes away the stress of having to craft a perfect, simple resume while also searching through hundreds of jobs. With a 3-5 business day Simple Resume turnaround, you can put 100% of your focus into applying to jobs while we take care of the rest.
The Best Professional Resume Writers Can Work With Your Experience
Whether you are a 20-year vet in the workforce or a recent college graduate, professional resume writing services have the expertise to create an effective, simplified resume. These services can tailor the resume to fit your specific needs and work to choose a simple resume format that works for your experience.
A Simple Resume Writing Service Can Guarantee a High Quality Resume
Due to the high demand for an effective, high quality resume to attract the eyes of employers, hiring the best professional resume writing services for your career needs can be a costly investment. On average, from entry level to C-Suite, those looking for career services pay roughly around $400 for these services. An elite low cost resume service, such as Simple Resume, can create a basic resume design tailored to fit your career needs and provide you with a free simple resume cover letter for just $99 (payment plan option included)!
Downloadable Simple Resume Template
Within the hiring process, the most essential piece of information required from an applicant will be the resume. Being that the resume is a detailed 1-2 page summary of the applicant's skills and accomplishments, the content of the document will determine which candidate is better suited for the position. With economic development and continuous changes in technology, resume writing has become an extremely technical process.
Our downloadable simple resume template is search engine optimized for applicant tracking systems and hiring manager appeal. Simple resume templates allow you to have an optimized platform for your resume's content. Download our simple resume template to see our simple resume design that is proven to land interviews.
Fast Turnaround & Rush Services Are Available
Career services firms need ample time to strategically prepare the perfect resume to fit your job search needs. Resume writing is an arduous process that needs to effectively communicate a candidate's value as a potential employee.
Our streamlined information acquisition process delivers consumers high quality content in 3 business days. However, there may be instances in which a client may be in an immediate need for services. In these instances, the best professional writing service will offer rush services to accommodate your needs and ensure that you're delivered the best resume possible proven to deliver positive results in your job search.
90 Day Money Back Guarantee
Considering there are a large number of candidates in the job search market, the competition within it is becoming more competitive with the implementation of various hiring tools such as applicant tracking systems (ATS) to screen applicants.
Many job seekers find that the most difficult step during the job search process is getting a chance to interview and speak personally about their skills due to the rapid pace at which resumes are being screened and passed upon. A simple resume service can guarantee job candidates a high quality resume that will result in an interview within 90 days or your money back.
Simply listing your name, skills, and qualifications are no longer considered sufficient enough information. The average employer takes an average of 6 seconds to look at a resume and determine whether or not an applicant is suitable for the job. To fight this, we recommend hiring a simple resume service.
Hiring a simple resume service to write your resume can prove to be beneficial in many aspects. Not only will they optimize your resume to ensure you are able to make it through the initial screening phase, but they will offer you a great amount of services for a very low price. Check out our professional resume writing services today to BOOST your chances of employment.