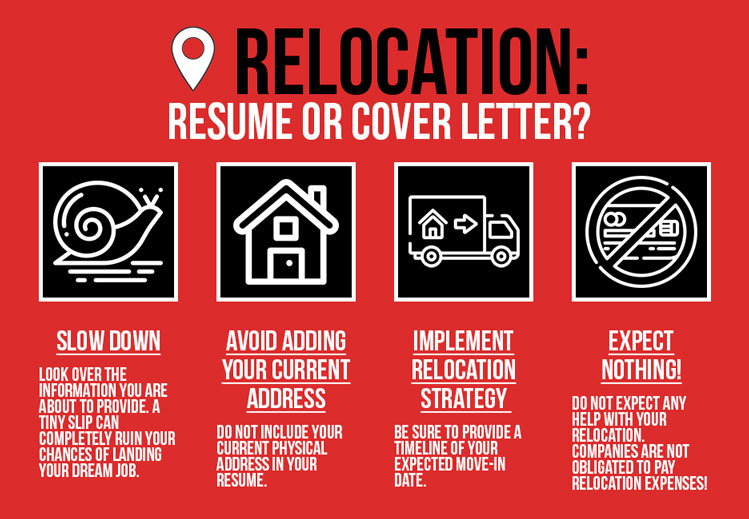 So, you've got your eyes set on the big city. Perhaps you're looking to start a new life, a new career, make new friends, uncover better opportunities, or just looking for a change of pace. When you find a position during your job search that immediately sparks your interest and also allows you to relocate, it is critical to develop a simple resume cover letter suitable for the position. Though your experiences will eventually determine the chance of successfully of landing the job, it is important to utilize the following tips to allow you the best chances.
Slow Down
You've created a simple resume format that is optimized and built-for-performance, your simple resume cover letter is polished, and your LinkedIn profile can't seem to keep hiring managers away! Before you begin to apply for the new position, take a second to look over the information you are about to provide the hiring manager. A tiny slip up can completely obliterate your chances of landing your dream job in your dream city.
When approaching the topic of relocating to a potential employer, there are a few different methods you can use to broach the topic during the job application process. In the initial stage, when you are creating your resume draft, the best practice is to be tactical about your current address on both your simple resume and simple resume cover letter. Taking a tactical approach with your address will prevent your document from being filtered out geographically by Applicant Tracking Systems.
Avoid Adding Your Current Address
DO NOT include your current physical address . Instead, provide a location that is in the general vicinity of where the job is located or where you are looking to relocate to. If you have a physical address belonging to friends or family, ask to use their address until you can obtain a more permanent one.
Keep in mind that if you are looking to relocate to a new city, you will need to have the flexibility of traveling to the desired destination with short notices for interviews. In case of this, make sure that you have travel funds ready or means to get to the location when needed!
Implement Relocation Strategy In Your Cover Letter
In addition to including the city and state you want to relocate to in the header of both your simple resume and cover letter, you'll want to mention your relocation in the body of your cover letter for consistency. To properly design a simple resume cover letter for relocation, add a brief declaration of your interest in the role and use this section to explain that you are looking to move to the area.
In your explanation, be sure to provide a timeline of your expected move-in date as well. This is considered to be a strategy to avoid any concerns of a late start in a new position. If you know the employer is looking to hire on someone within the next month, be certain to state that you will be relocating within the next month and that the transition will not affect the hiring process.
Although it is important to mention the fact that you're looking to relocate in your simple resume cover letter, remember to keep the focus on the value that you will bring to the organization. It is of critical importance to put more attention and emphasis on this rather than where you are currently located.
At the end of the day, there isn't a single employer who would dare to hire someone who is unqualified for the position. Your qualifications alone will determine the process of gaining employment for a new role in a new location and company. Because of this, be sure to focus your efforts to highlight your strengths and accomplishments making them the focus of both your cover letter and resume.
Expect Nothing
You may have heard of some cases where employees receiving a special relocation package from their companies to assist with their relocation expenses. There are even many cases of employers paying the full expense of relocating including unpacking, finding temporary housing, and travel reimbursement.
However, even though you may be looking for relocation jobs, do not expect any help with your relocation. Companies are not obligated to pay relocation expenses. Thus, the company of interest can actually negate your job candidacy and find someone who is truly local to limit the costs of paying to relocate an employee.
Now that you've successfully brought up your moving plans briefly in your simple resume cover letter and your cost effective resume, you've essentially covered the bases. You didn't hide that you were looking to relocate, you gave the employer an ideal timeline for your move, and you've prioritized highlighting your skills and qualifications to ensure that you're a good hire. Once you have all of this information ready, it's time to bring it home and allow your application to speak for itself!