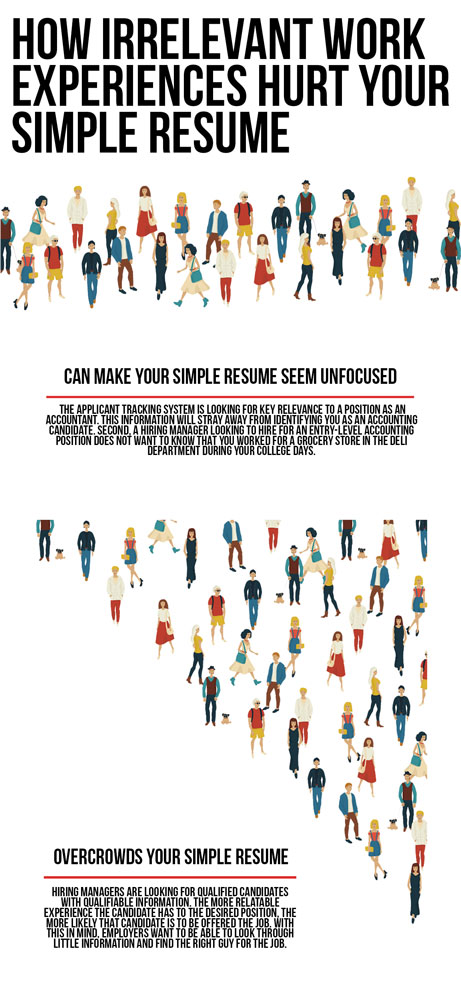 Resumes have evolved to become personal marketing tools for working professionals. Job seekers were once able to list their recent experiences and present them to hiring managers to gain employment. Now, with the implementation of initial screening technology with Applicant Tracking Systems (ATS), resumes need to be strategically crafted in order to reach employers. Since they now have to be optimized, including irrelevant work experience in your simple resume will destroy your chances of getting a call for an interview. We will explain how including irrelevant experience in your resume can hurt your chances of getting an interview.
Irrelevant Work Experience Overcrowds Your Simple Resume
Hiring managers are looking for qualified candidates with qualifiable information. The more relatable experience the candidate has, the more likely that candidate is to be offered the job. With this in mind, employers want to be able to look through little information and find the right guy for the job. Employers generally spend only 6 seconds looking at an applicant's resume. Including relevant work experience in this little information will save space and make the best use of your simple resume. Overcrowding your resume with irrelevant work experience can cause hiring managers to miss the important, relevant information. As a result, your chances of getting hired will be greatly diminished.
Irrelevant Work Experience Can Make Your Resume Unfocused
With ATS screening, resumes need to have relevant keywords in order to pass. For example, let's say you want to apply for a position as an accountant. In your past, you worked in a variety of positions, including working as a deli clerk at a supermarket. You choose to include this information in your simple resume. You write about how you sectioned different meat selections and serviced customers. This can hurt you in two ways:
First, the applicant tracking system is looking for key relevance to a position as an accountant. This information will stray away from identifying you as an accounting candidate.
Second, a hiring manager looking to hire for an entry-level accounting position does not want to know that you worked for a grocery store in the deli department during your college days.
If you are writing a resume for an accounting position, you will want to focus your writing efforts on the skills and accomplishments needed for a career in accounting. You could very possibly use that position as a deli clerk to include information about cashiering and cash handling to better fit your simple resume for accounting.
Include only relevant work experience and skills on your simple resume. This will cut out a lot of unnecessary and irrelevant information and allow you to focus on your dream position.