The presence and influence of social media today is tremendous. Before the existence of social media, things such as social profiles, profile pictures, and shared media files were generally nonexistent. The Digital and Social Age has created a sense of need of social acceptance. With that being said, this has come to influence the workplace as well, ultimately leaving room for a simple resume mistake that has become fairly common.
The social networking giant LinkedIn has implemented profiles and headshot photos into its system for working professionals to be identified along with their work experiences and credentials. This is commonplace and some may deem it okay to include a photo on a job resume. However, unless you're an actor/actress or a creative, you should NEVER include a photo on your professional work resume.
Here are our top three reasons why including a photo on a simple resume could cost you an interview.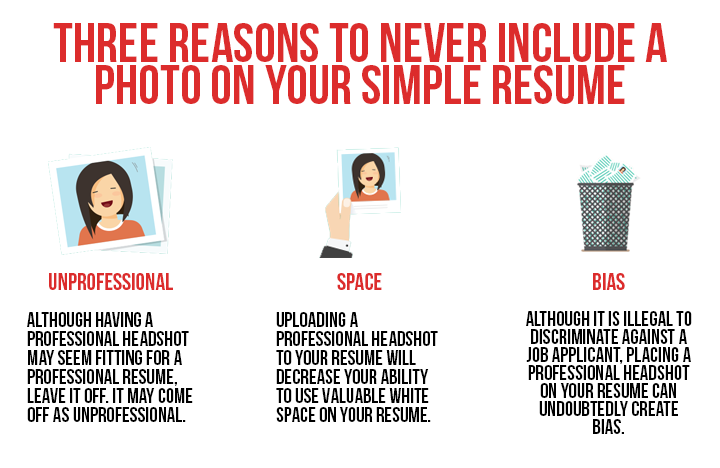 Unprofessional
Although having a professional headshot may seem fitting, leave it off. It may come off as unprofessional to hiring managers who may be only looking for someone who can get the job done regardless of their image. Instead of uploading a headshot to your professional work resume, leave it for your LinkedIn profile and plan to show up to the interview dressed to impress with a big smile and warm handshake.
Space
Uploading a professional headshot to a simple resume will decrease your ability to use valuable white space. White space is invaluable to modern resume writing. You want the reader to focus and key in on your accomplishments and qualifications. Leaving an adequate amount of white space to fit your skills, accomplishments, and career highlights can prove to be the difference maker in your job search.
Bias
Although it is illegal to discriminate against a job applicant based on his/her age, race, ethnicity, religion, or gender, placing a professional headshot on a simple and professional resume can undoubtedly create bias. You can potentially be stereotyped by an employer early on in the hiring process and be eliminated as a candidate. Though it is an illegal practice, there will be practically no way to prove that you were a victim. Your best bet is to leave it off completely to prevent any discriminatory practices against you.
Keep these things in mind when deciding on whether or not to include a professional headshot. Aim to upload your best headshot to your LinkedIn profile and stay away from the resume. In the end, practicing this could prove to be a future email for a job interview! Keep your resume simple and never upload a photo.