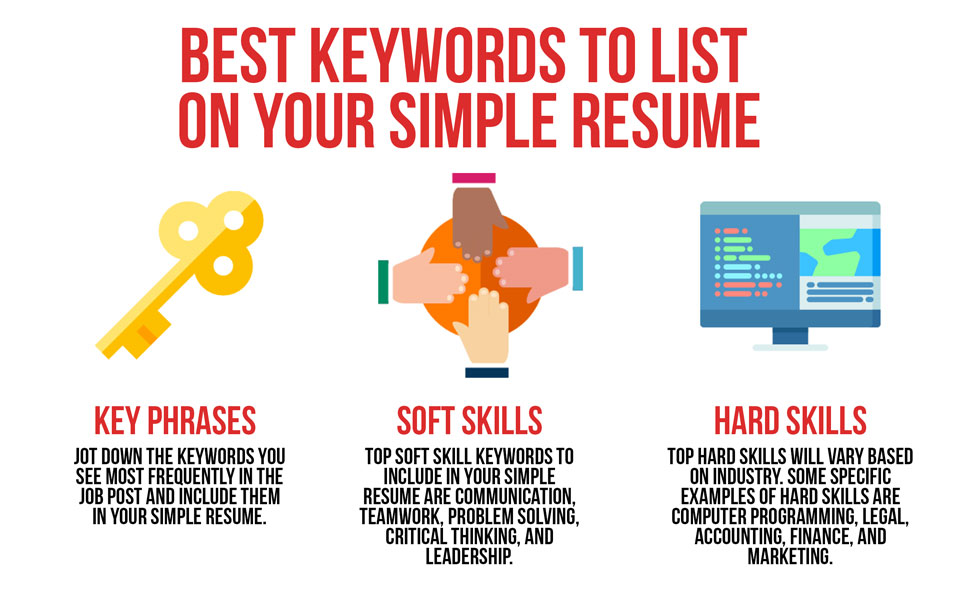 Performing keyword optimization for your simple resume is the key to receiving a call to interview. Keyword optimization is a detailed process that consists of thoroughly researching and selecting the top, best keywords to drive traffic from search engines. What is the importance of this in today's modern resume writing?
The best resume examples that we've seen succeed by using keywords to show the employer the candidate is qualified for the role. In the job market today, qualifying for a job is no longer solely based on your skills and experience. Hiring managers are in search of a potential job candidates with optimized, quality, keyword-stuffed simple resumes. The majority of the quality within today's modern resume writing now comes from the presence and quality of your keywords. This is due to the presence and use of applicant tracking system (ATS) software.
Applicant tracking system software is a software application that is implemented by employers to effectively screen job candidates in the hiring process. This software is utilized to prove whether or not they are qualified for the role. The candidate's qualification for the role is based upon several factors such as job relevance and keyword usage. Due to this, today's modern resume does not get a chance of being seen by a hiring manager. To be successful, we have included some of the best keywords you can insert into your resume writing format to better your chances of landing an interview.
Key Phrases In The Job Description
When you look at a job posting, take a very detailed look at the job description. Job descriptions contain extremely valuable information pertinent to the hiring process. Within their descriptions of the general tasks, responsibilities, and requirements of the role, they include specific keywords and key phrases such as "strong attention to detail" and "excellent verbal and written skills".
The description will almost always be filled with important keywords and phrases. It is key to jot down the keywords and key phrases you see most frequently in the job description as they will be worthy to include in your pattern of resume writing. Failing to include this information will greatly diminish your chances of landing a job interview.
Soft Skills As Keywords
Nearly every job description you come across will contain soft skills. In the workplace, soft skills, also known as people skills, are becoming increasingly more important than ever. Contrary to hard skills, these skills are not easily developed and can be a hit-or-miss within the hiring of an employee.
Soft skills are acquired and developed through work experience and the desire for professional and self-development. Generally speaking, they can be seen as instrumental to success for the fact that they are key in establishing partnerships as well as developing key relationships. Many roles require a candidate to have developed sufficient soft skills in order to be a valuable asset to the organization as an employee.
Soft skills can be the difference maker in your job search. Some of the top soft skill keywords that are included in today's modern resume writing are communication, teamwork, problem solving, critical thinking, and leadership. Be aware that although they are important, they are also expected. Be sure to include them, but be mindful not to focus heavily on them in your job resume.
Hard Skills As Keywords
Hard skills are skills that are more focused, teachable, and will show employers you have the exact experience needed for the specific role. Hard skills are more industry-specific and are acquired depending on the field in which the role exists.
Hard skills are developed from actual field experience in your career. For example, computer programming skills such as proficiency in SQL and Python are much more focused than soft skills. A candidate would have to have actual experience and proficiency in these areas for it to be considered a skill.
Top hard skills will vary based on industry. Some specific examples of hard skills come in the fields of computer programming, legal, accounting, finance, and marketing.