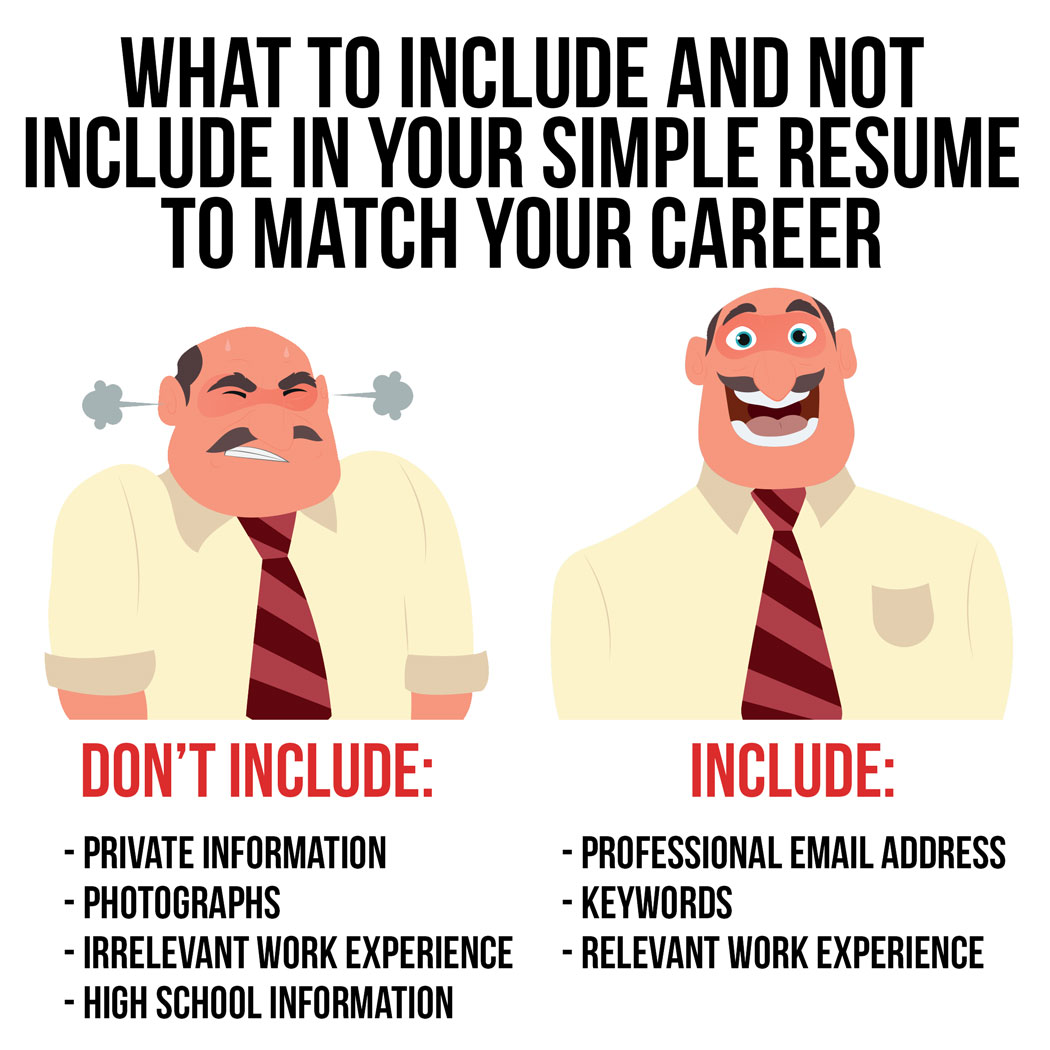 Any entry-level job seeker entering the workforce or working professional looking to move forward in their career path will be required to write and submit a resume before they enter into the hiring process. Job resumes have drastically changed in recent years, leaving many working professionals with the inability to write an effective resume. Here is a list of items to include and items not to include in your simple resume.
What To Include In A Job Resume:
Professional Email Address:
For freshers, it is important to have the correct contact information in your resume. More importantly, it is of critical importance that you include a professional email address. Many times, a job candidate may include his/her personal email in their job resume which can be considered inappropriate for professional settings.
For example, let's say there are two job candidates; John Adam and Jay Smith. John and Jay are both applying for a role as a Technical Analyst, they both currently hold similar positions, and they both hold equal value as potential job candidates. In Jay's resume, he uses the email "shootthejay23@gmail.com". John uses the email "johnadam1@gmail.com" in his resume. John will most likely end up getting the call for an interview. A hiring manager would be more inclined to contact a potential job candidate with a business professional email.
This is important to remember when strategizing to land an interview. Including a professional email address will promote you as someone who is professional and has built a strong business acumen.
Keywords
Keywords and key phrases are the key tricks to creating an optimized simple resume. Including keywords and key phrases into your resume from job descriptions will not only beat applicant tracking systems (ATS), but also put you ahead of the competition in the job market.
Many job descriptions of today contain specific keywords that are used to describe the role and the type of job candidate that would be a match. Be cognizant of these keywords and work to include them in your simple resume's content.
A lack of important keywords within  your job resume can be detrimental to your chances of landing an interview. Plan to tailor your simple resume writing to include keywords to better your chances.
Relevant Work Experience
Relevant work experience is classified as work experience that is relevant to your desired job title. For example, if you're looking to land a position as a Sales Manager, it would be wise to include work experiences that included extensive sales and customer service in your pattern of resume writing. Certified Professional Resume Writers are pros in determining what is considered relevant to certain industries.
Include your most relevant work experience to the position you are applying for. Including irrelevant experiences takes up unnecessary space on your simple resume and will limit the amount of relevant information you can fit.
What Not To Include In A Job Resume:
Private Information
Private information such as your date of birth, gender, religion, marital status, social security number, driver's license number, physical address (include your city and state), and height/weight should not be included in your work resume. Not only can some of this information prove to be worthless, but it can also leave you at risk of identity theft if put in the wrong hands.
Be cautious and aim to only include information that is relevant to identify you in job candidacy such as your name, number, location, and email address.
Self-Photograph
A self-portrait is not necessary for your candidate profile. Having a headshot on your job resume can in fact create unnecessary bias that can be avoided.
Unless you are looking to apply for an acting or modeling role, it is best that you do not include a self-portrait in your simple resume.
Irrelevant Work Experience
Having a section filled with irrelevant work experience in your simple job resume layout takes up a great deal of space within your simple resume. In its essence, a job resume containing irrelevant work experience can cause job candidates to lose valuable space that can be used to list relevant accomplishments, experiences, and projects.
Irrelevant work experience can ultimately cause your resume to seem unfocused and show hiring managers that you do not have the experience they are looking for in a candidate. Work to include only relevant information within your simple resume.
High School Information
If you hold a bachelor's degree or higher, your professional resume layout should not have a section to dedicate to any information from your high school career. This information can prove to be useless as it has been some time since you have been enrolled in high school.
Recruiters and hiring managers only want to see recent, relevant experience. Leave out the high school information and include only your college education.